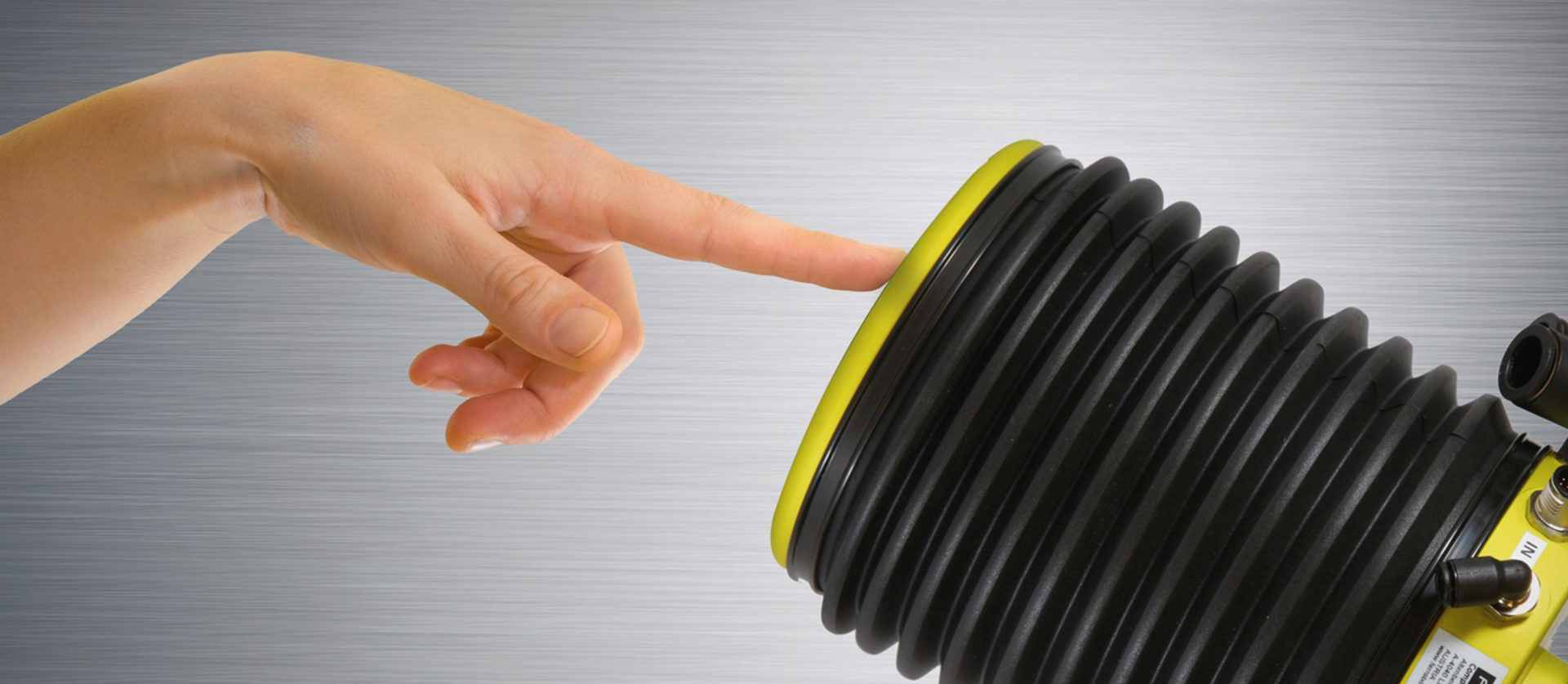 Active
Compliant
Technology
ACT
Active compliant technology
We equip robots with sensitivity using patented Active Compliant Technology (ACT) - and they are therefore more flexible, reliable and economical than ever. ACT-optimized robots intelligently adapt themselves to suit complex surfaces, meaning they are able to automatically measure the amount of force that needs to be applied. They are even able to offset any sudden counter forces, if objects move for example. ACT is able to increase efficiency when used as either a standard tool, or as a function package optimized for special requirements, precisely where a seamlessly automated production process was not previously achievable. There is also no need for lengthy and expensive test phases on implementation. Rather than having to wait months to be able to quantify the improvements in performance and quality made possible with our ACT-based solutions, results can be noticed immediately. Unlike, force torque sensors, our device does not have to move the mass of the robot arm. Instead, it only deals with the weight on the end of the moving element. That makes our robotic force compliance devices faster, more accurate, precise, and easier to use than other equipment on the market. Each tool has absolute calibration (artificial conditioning) which guarantees a constant process for multiple cells (roll-out) or spare devices all over the world.
The Active Compliant Technology works along the successful bionic principles of flexibility and adaptability. FerRobotics developed this technology with the most cutting-edge methods, marking a new milestone in flexible robotics.
The sophisticated combination of actuator & sensor, innovative power concepts and fine-tuned high-speed control is central to the technology. The precise interaction of this technological combination interacts results in the unique features of intuitive physical adjustment and flexibility. The innovative technology is embedded in a robust mechanical structure. This innovative set-up provides a straightforward operator convenience.
Those who want to achieve perfect results have to be able to do one thing above all: easily adapt to different requirements. Because we are convinced that outstanding quality makes the difference, we equip robots with exceptional sensitivity. Our Active Compliant Technology enables robots to measure out their power and intuitively adapt to a surface at the moment of contact. Even complicated manual activities can be automated and the profitability of the entire production can be increased.
THE NOTICEABLE DIFFERENCE
THE WISER ONE GIVES IN, NOT UP
Autonomous tolerance compensation gives FerRobotics products their worldwide unique contact intelligence. This independent and adaptive position adjustment means that they are optimized for machining on contact - that is, on "close contact".
Robots that are equipped with FerRobotics equipment process even moving objects with precise contact force. Thanks to ACT, the system recognizes opposing forces and adapts in real time. In addition, it compensates for a changing orientation in space through integrated gravitational compensation.
TOP QUALITY
THROUGH PERFECTION
With Active Compliant Technology, robots develop a feeling for perfection - for every conceivable task. ACT raises even arduous manual precision work to a top automation standard. It delivers exactly reproducible and consistently high quality 24 hours a day, 7 days a week.
THE ADVANTAGES
of the real active force control
The unique contact-force intelligence (force compliance device) makes FerRobotics equipment particularly easy, versatile and reliable for every user level. This eliminates the need for technically complex adjustments or time-consuming interventions in program routines. FerRobotics end-of-arm tools for robotic material removal, surface finishing or quality control can be integrated immediately into existing systems and make the increase in performance and quality optimally sustainable. Standard tools along with optimized function packages for special requirements are characterized by their ease of use. Our equipment is more accurate and precise than any other force compliance on the market.
Active Compliant Technology
gives robots tactile sensitivity and adaptation with constant contact force
delivers exactly reproducible and consistently high quality
enables shorter and more reliable cycle times
processes the material or part's surface much faster, more accurate and much smoother than by hand
precisely processes complex-shaped workpieces and moving objects
is suitable for every task in surface processing and contact-sensitive handling
ensures lower abrasive consumption in grinding applications
adjust the perfect constant contact force needed for the abrasive (grit) = enables the optimal material removal
Relieves the shortage of skilled workers in surface treatment
Relieves employees of stressful 3D jobs (Dusty-Dirty-Demeaning) and enables their use in different activities (e.g. quality inspection)
integrates quickly, flexibly and reliably into new and existing systems
closes quality-relevant automation gaps in complex and delicate manual activities
stands for improved productivity and competitiveness with exceptional profitability
We feel most at ease where there is
Room for Improvement
YOUR REQUEST TO FERROBOTICS
Put your questions to the global market leader in flexible robotics. It's important to us to communicate with you in the best way possible: our experts are always happy to help and share their expertise with you.