LEADER IN SENSITIVE ROBOTICS = FORCE COMPLIANCE EXPERT
FerRobotics is the global leader in the development and distribution of sensitive robotic elements (for robotic material removal end-of-arm tooling / surface treatment end-of-arm tools / end-effectors) that equip a robot or cobot with contact intelligence and real force control. We give robots feeling. And thus ensure more efficient, finer and more valuable production results. Our products close automation gaps seamlessly and are trendsetters in flexible automation in numerous industries on the international market. Our experts will happily show you solutions for your applications (robotic grinding, sanding, polishing, deburring,...) or other requirements. FerRobotics - the brand for experts in surface treatment
Fair
from
to
Partner
Location
Country
23.02.2021
25.02.2021
23.02.2021 - 25.02.2021
FerRobotics
Partner: FerRobotics
DIGITAL EVENT
WORLDWIDE
22.03.2021
26.03.2021
22.03.2021 - 26.03.2021
FerRobotics
Partner: FerRobotics
DIGITAL EVENT
WORLDWIDE
06.06.2022
09.06.2022
06.06.2022 - 09.06.2022
FerRobotics Inc.
Partner: FerRobotics Inc.
TCF Center | Detroit, Michigan
USA
31.03.2021
31.03.2021
31.03.2021 - 31.03.2021
Universal Robots, FerRobotics
Partner: Universal Robots, FerRobotics
Online
China
News
ABOUT THE REAL FORCE CONTROL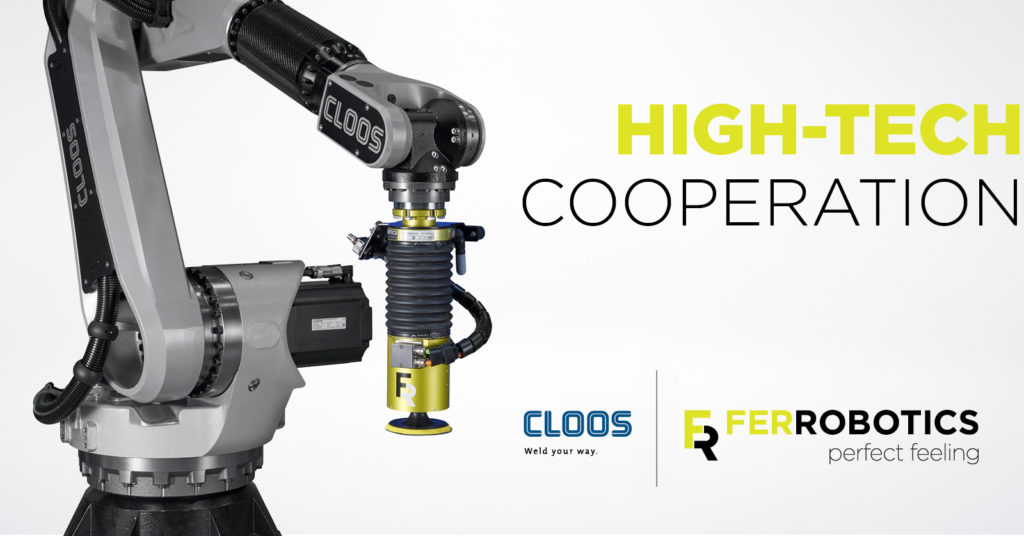 CLOOS Robots + FerRobotics

As partners on the same level, CLOOS and FerRobotics offer the best of both worlds in one complete package. Read More
Active
Compliant Technology
Robots and cobots who are able to automatically adjust their work to suit the surface the moment they make contact are then not only able to complete their work more reliably, but also in a more precise and economical manner. This is made possible by our unique Active Compliant Technology. To date, robotics has only been able to provide insufficient contributions to industrial production processes, but in recent times, these processes have been automated, meaning the quality of the results produced has undergone long-lasting improvements. FerRobotics equipment ensures a robot can apply a constant force to bring an unmatched level of consistency and precision for robotic sanding, grinding, deburring, polishing, and many other material removal or surface treatment applications. More about ACT - THE REAL FORCE CONTROL
We feel most at ease where there is
Room for Improvement
YOUR REQUEST TO FERROBOTICS
Put your questions to the global market leader in flexible robotics. It's important to us to communicate with you in the best way possible: our experts are always happy to help and share their expertise with you.