Grinding,
sanding,
polishing,
deburring
Robotic surface treatment for a variety of materials
Grinding, sanding, polishing and deburring a wide variety of materials are key operations in numerous industries and branches. The applications are extremely diverse and are usually still done manually due to the lack of solutions and machines. Here in particular, the products from FerRobotics offer ideal solutions and generate enormous added value, because they "feel" what they are doing and deliver optimal results. Even in 24/7 operation, consistent quality is generated and in addition, shorter cycle times, lower costs and higher productivity are achieved. Robotic surface treatment also solves the dirty, dull and dangerous problems (3D Jobs). Process-optimized complete solutions enable quick and immediate integration into existing systems, both for industrial robots and collaborative robots.
FerRobotics is technology leader in automated surface processing and has in-depth application know-how in robotized grinding and sanding. The sophisticated product range offers a multitude of tailor-made grinding solutions for the most diverse requirements. They ensure the necessary sensitivity and reliable force control in order to achieve optimum surface quality. In addition, the constant contact force reduces abrasive consumption and the integrated suction noticeably reduces the cleaning effort. The innovative grinding systems (end effectors / end of arm tools) are suitable for the surface treatment of a wide variety of materials across all industries.
The polishing process is aimed at achieving the most perfect surface finish possible. On the one hand for optical reasons, but also for technical requirements. Therefore, FerRobotics has developed a large selection of process-optimized polishing comfort solutions. These can be easily and quickly integrated into existing processes and will impress with an extremely short ROI.
Sharp edges or burrs occur on the workpiece in a wide variety of machining or manufacturing processes. These must be removed in a separate work step, whereby the exact contact force is also decisive here. FerRobotics offers the perfect solution for this with numerous products.
Roof joint grinding
FerRobotics is creating a new industry standard
With the ASK FerRobotics is creating the new industry standard
The ASK provides fully-automatic grinding of invisible roof joints, brushing of door sills or cleaning of welds. Thanks to the autonomous contact sensitivity, ASK processing attains absolute top quality. The results are so outstanding that manual reworking is no longer necessary. The ASK was developed to close automation gaps in bodyshell work.
Fully automated spot repair on clear coat
The elimination of defects on the clear coat is crucial for the final paintwork. In combination with an automated detection system and the Active Orbital Kit it is possible to fully automate this delicate manual process. The AOK/XS provides the essential active force control and sensitivity and therefore not only delivers a perfect paintwork quality, but also achieves substantial cost savings.
Automated polishing with UR cobots and the FerRobotics sanding kit
Using the AOK905 for the automation of sanding or polishing processes with a collaborative robot is not much effort. Fast and easy to programm, this combination achieves perfect polishing results in constant high quality. The AOK905 autonomously compensates surfaces tolerances with consistent contact force.
Automated polishing of carbon parts
The automated polishing of parts with complex surfaces, such as a carbon hood in this case, becomes efficient only through the use of the Active Compliant Technology. Active compensation of tolerances, immediate adaptation to complex shapes and an always constant contact pressure result in a high quality and faster cycle times.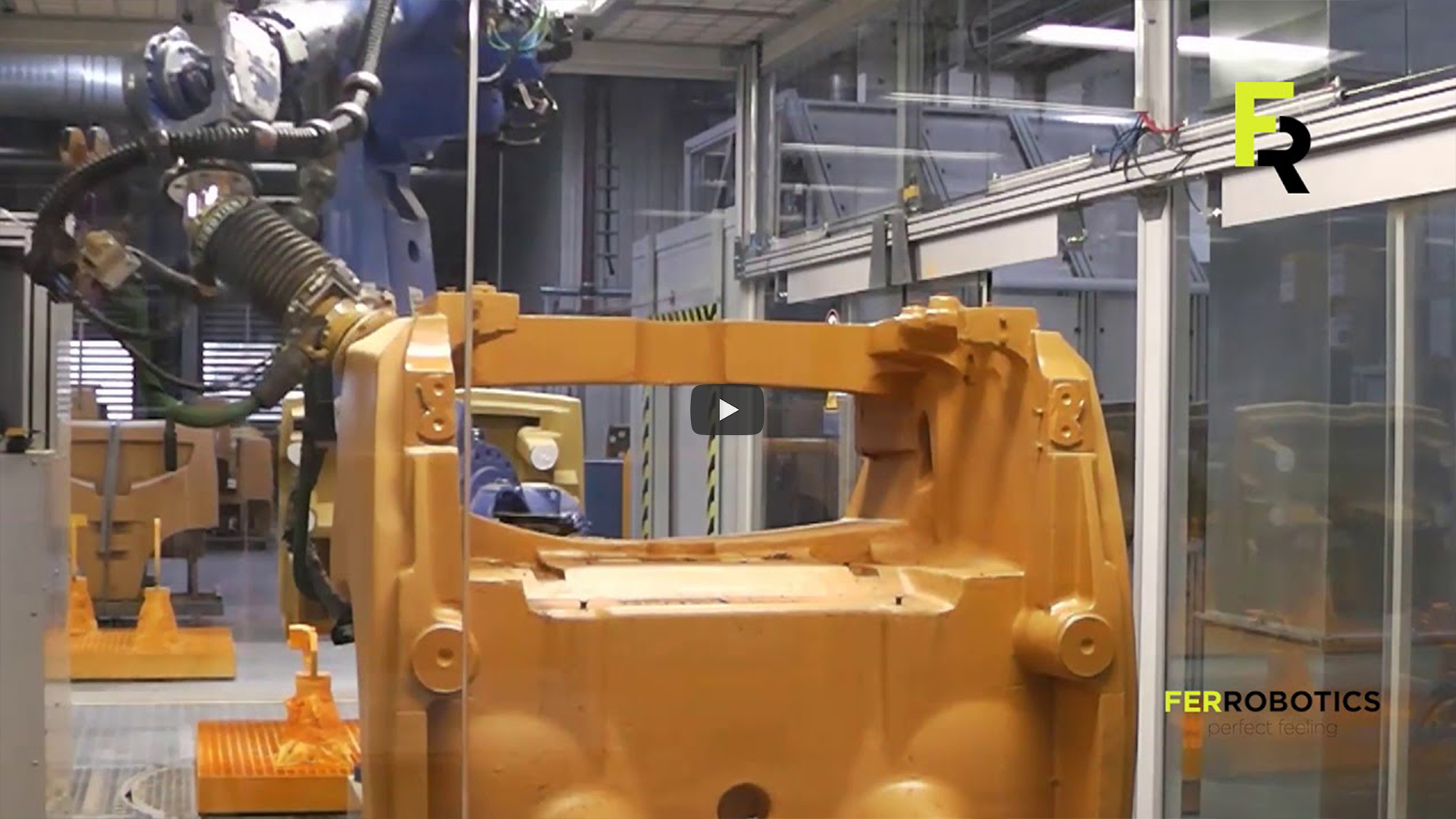 Forklift truck robotic sanding – FerRobotics fullfills Jungheinrich quality level
How does a forklift truck counterweight body meet the Jungheinrich quality level? With a perfect surface treatment (sanding) supported by the FerRobotics ACF (Active Contact Flange) or solution package AOK (Active Orbital Kit). The benefit: An exactly repeatable process can be performed much faster and more uniformly than manually and requires no rework.
Fully automated power-controlled brushing of welding spatters
The ASK Brush as a process-optimized end-of-arm comfort solution contains important peripherals such as servo technology, electronics and extraction. It controls all process parameters individually but coordinated with each other. The ASK Brush brushes guns and welding spatters without damaging the galvanized surface and removes residues.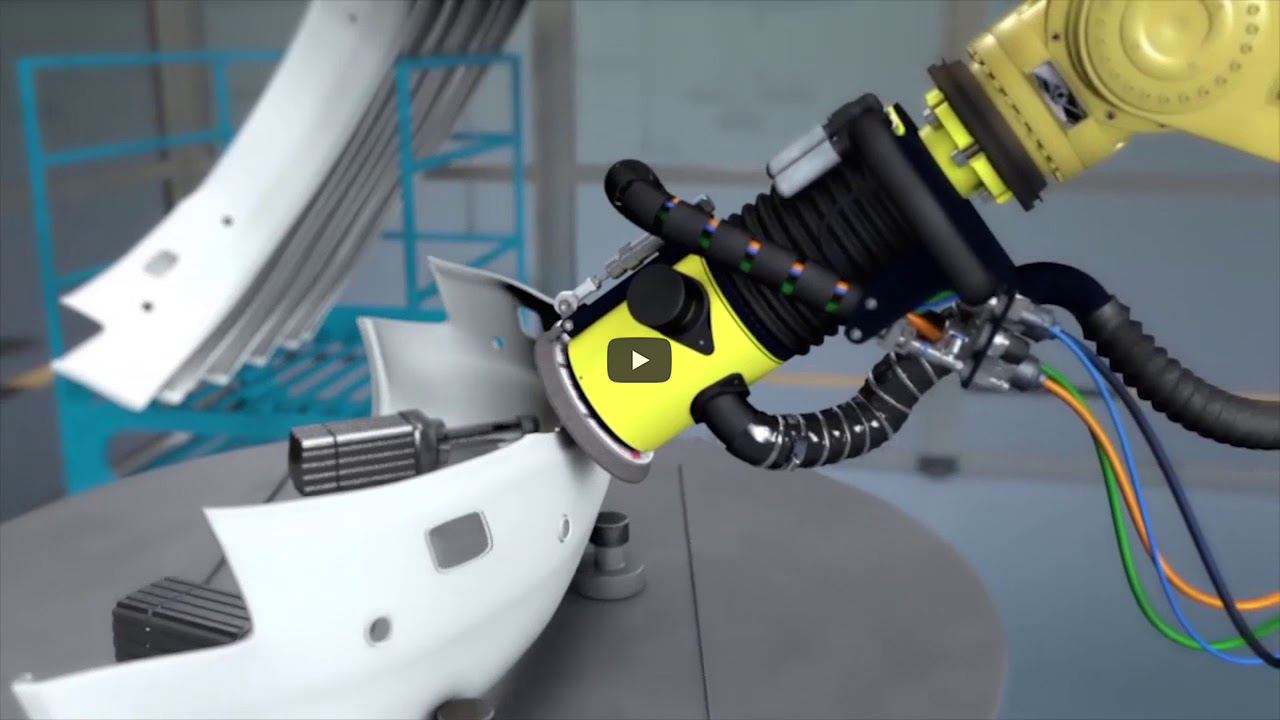 Fully automated surface preparation for paint finish
The AOK delivers a perfect surface preparation for the finishing in just a few steps. In 24/7 use it removes sharp edges and burrs from the workpiece quickly and efficiently, without changing its geometrical form. No need of rework. Providing active compliant force control, the extraordinary durable orbital grinder generates a uniform, reproducible surface appearance.
Guitar body sanding
Automation made possible thanks to Active Compliant Technology
Automated sanding of guitar bodies
Difficult shapes, long cycle times, tiring manual work and a lack of available employees are mainly the reasons for automation. The AOK XS offers highest process quality and is ideal for the surface finishing of small areas and difficult shapes. The integrated complete solution automates the industrial sanding process with individual control of all process parameters.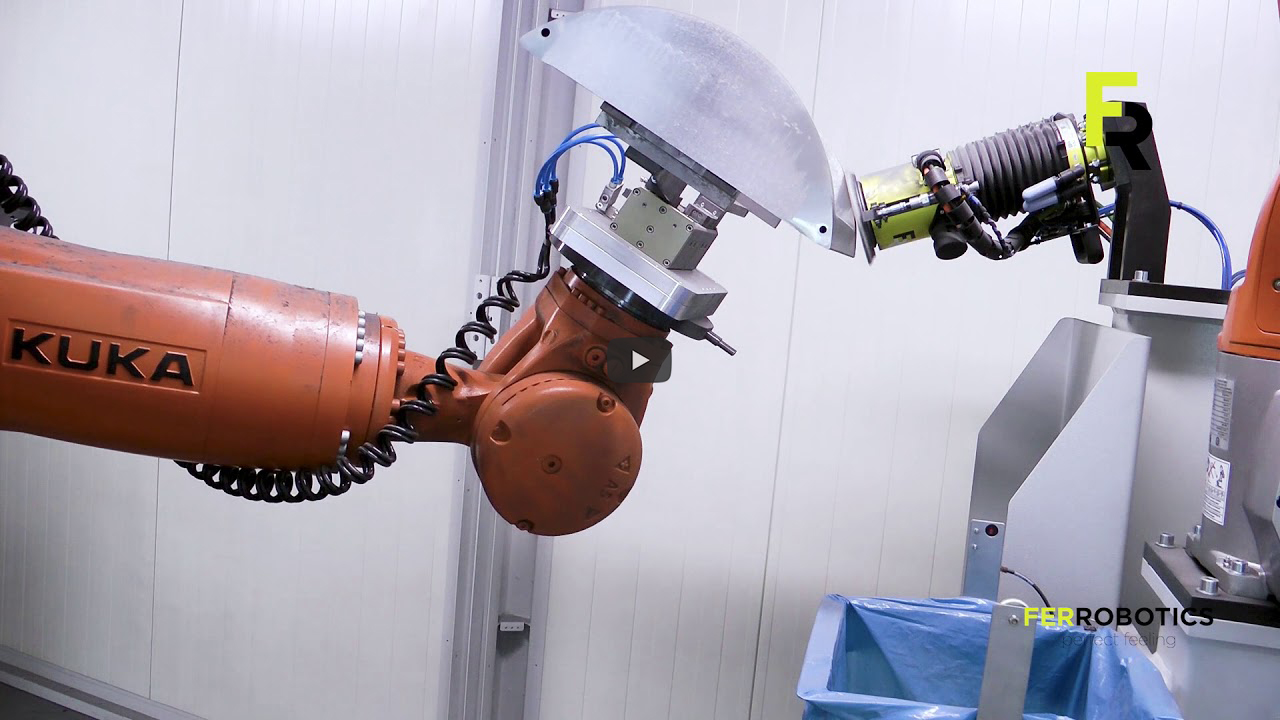 Automated fireplace sanding and finishing
Due to labor shortage, companies like the stove manufacturer HASE Kaminofenbau have to automate their production. Together with our partner SHL AG we designed a grinding cell for a a flawless structure-free surface finish. With the integrated AOK not only high-quality was achieved but also huge abrasive savings and an unbeatable fast ROI in less than 2 years.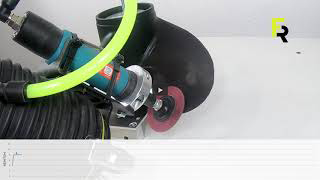 Automated propeller grinding with the ACF-Kit - Die Grinder Angular
The ACF-Kit is presumably the simplest and most flexible Cobot tool on the market and optimizes a wide range of previously manual surface treatments. Equipped with the Active Compliant Technology, the ACF-K offers a high degree of sensitivity and guarantees ideal process quality. The versatile and user-friendly plug & play tool is suitable for surface processing of almost all shapes and materials.
Fan blade sanding + Hip Stem implant polishing with FerRobotics Active Belt Grinder
A beltgrinder solution with real force control to sand the surfaces of a fan blade. The blade gets prepared for perfect flow characteristics and efficient turbine operation. This set-up is also approved for the medical device sector. Improve your production with a robotic polishing system for joint replacement implants such as hip and knee.
Automated deburring of complex shaped workpieces
The process optimized end-of-arm package solution Active Angular Kit compensates tolerances on workpieces and applies a consistent contact force. That way the AAK delivers exactly reproducible deburring quality even on complex shaped objects. Industrial grinding and deburring processes can be automated and optimized for 24/7 production.
Perfectly sanded bathtubs
Modern high-end bathtubs need to be sanded and polished carefully to achieve a perfect surface quality with a perfect surface feel. Instead of costly and time consuming manual work the ACF helps to increase productivity enormously. Less manpower, less abrasive consumption, heavily reduced cycle times and constant quality are just some important advantages.
Sanding aircraft wings
Automated grinding process with three-headed orbital sander
Automated sanding of aircraft wings
The Active Orbital Kit 601, a three headed robotic sander, is perfect for automated sanding tasks of large surfaces, like e.g. the automated sanding of aircraft wings. The AOK601 ensures a constant force during the sanding process and thus guarantees the best possible surface treatment. This is crucial for modern aircraft coatings.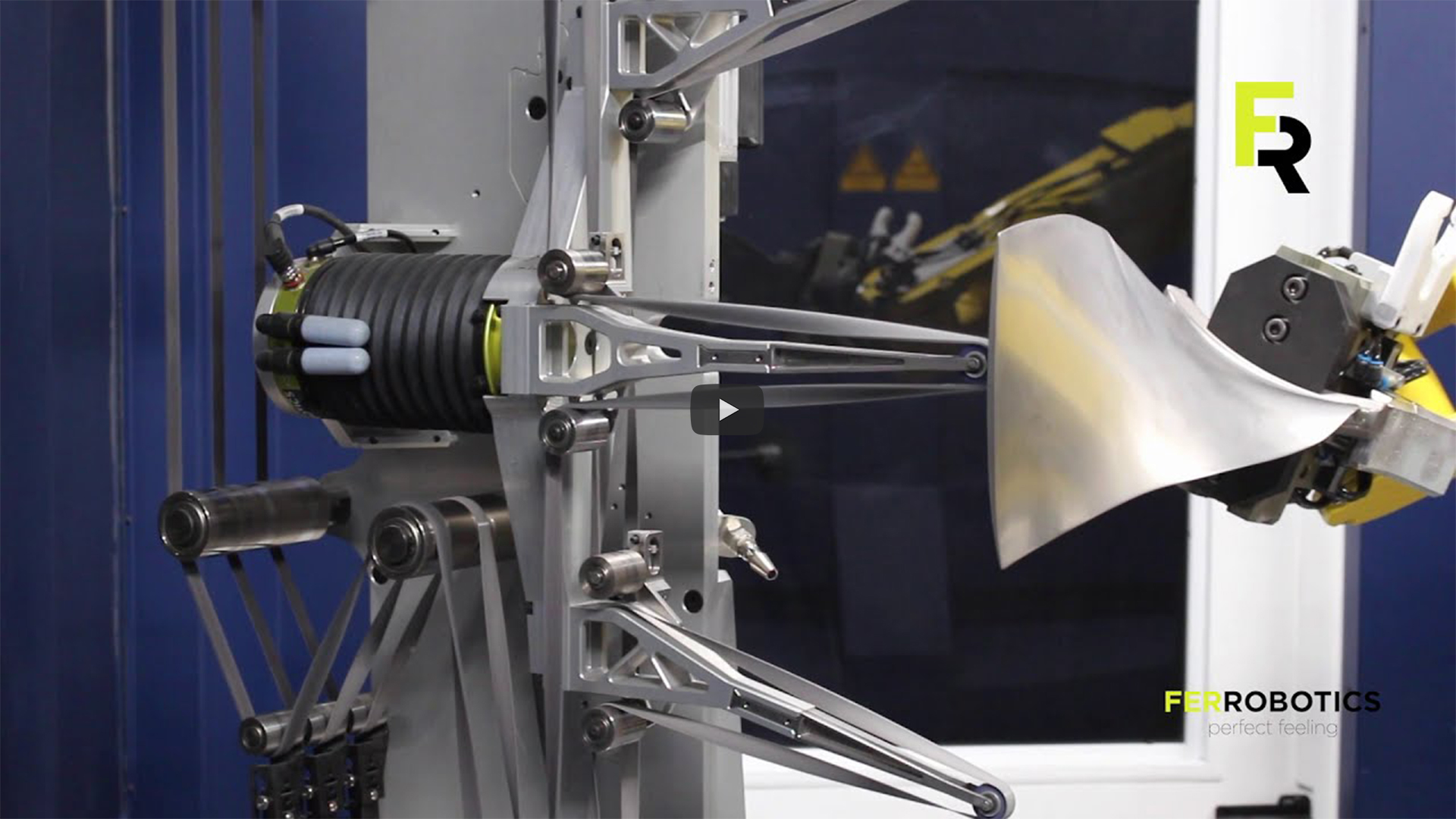 Belt sander with active force control for sensitive surface operations – FerRobotics
Together with AV&R, a specialist for automated surface finishing processes in the field of turbine engine manufacturing, we helped to optimize the sanding process of high-tech blades. This Video shows our advanced compliant belt sander, powered by FerRobotics Active Compliant Technology®, with a response time perfectly matched to this application.
Perfect surface finish in the aircraft industry
The grinding of filler with the proven Active Compliant Technology attains a perfect surface finish. This automation step not only reduces costs but also maintains quality at a high constant level. In this industry, a smooth surface finish is critical in reducing air turbulences to a minimum.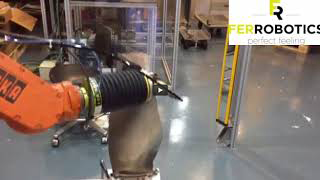 Manufacturing of complex contours
The ACF increases the productivity immense with an optimal yield of good parts. The ACT-robotized finishing reduces processing steps and increases process reliability. The Active Compliant Technology guarantees a fully-automatic handling of this precision work, which up to now could only be performed by a few experienced specialists.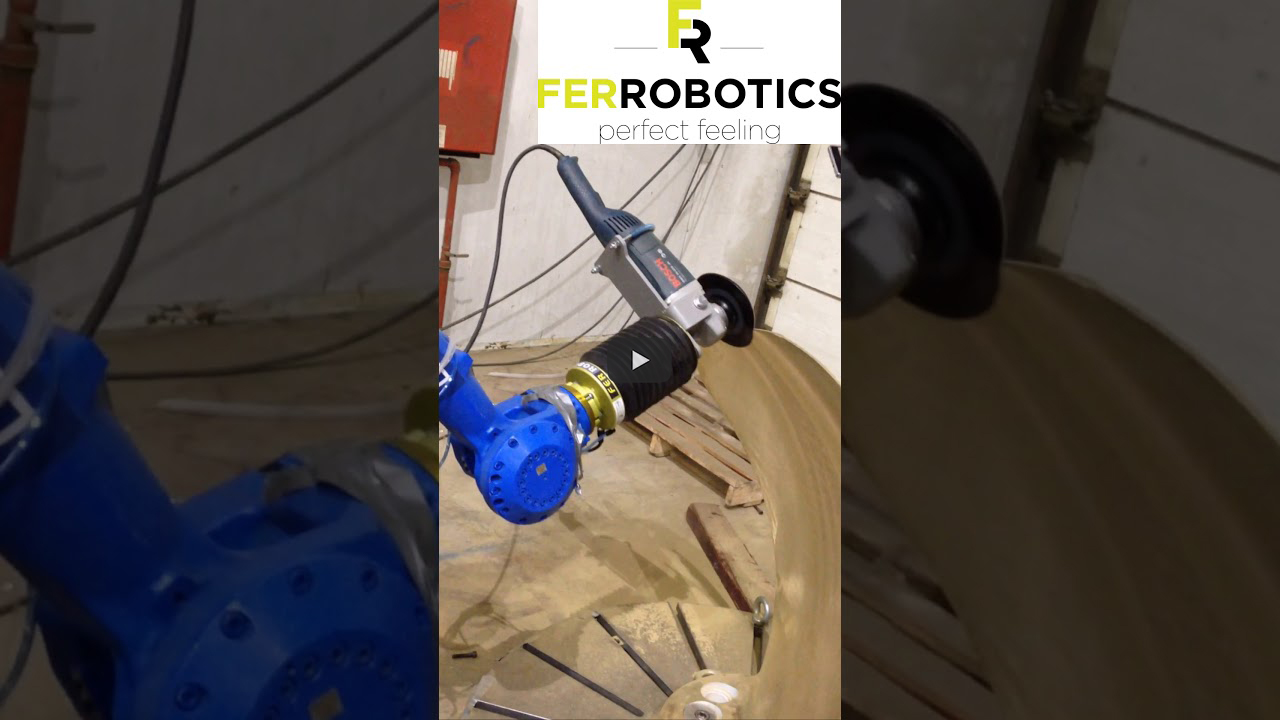 Fully-automatic precision grinding of complex contours
With the ACF the productivity is increased immensely with an optimal yield of good parts. The ACT-robotized finishing not only reduces processing steps but also increases process reliability. The Active Compliant Technology guarantees a fully-automatic handling of this precision work, which up to now could only be performed by a few experienced specialists.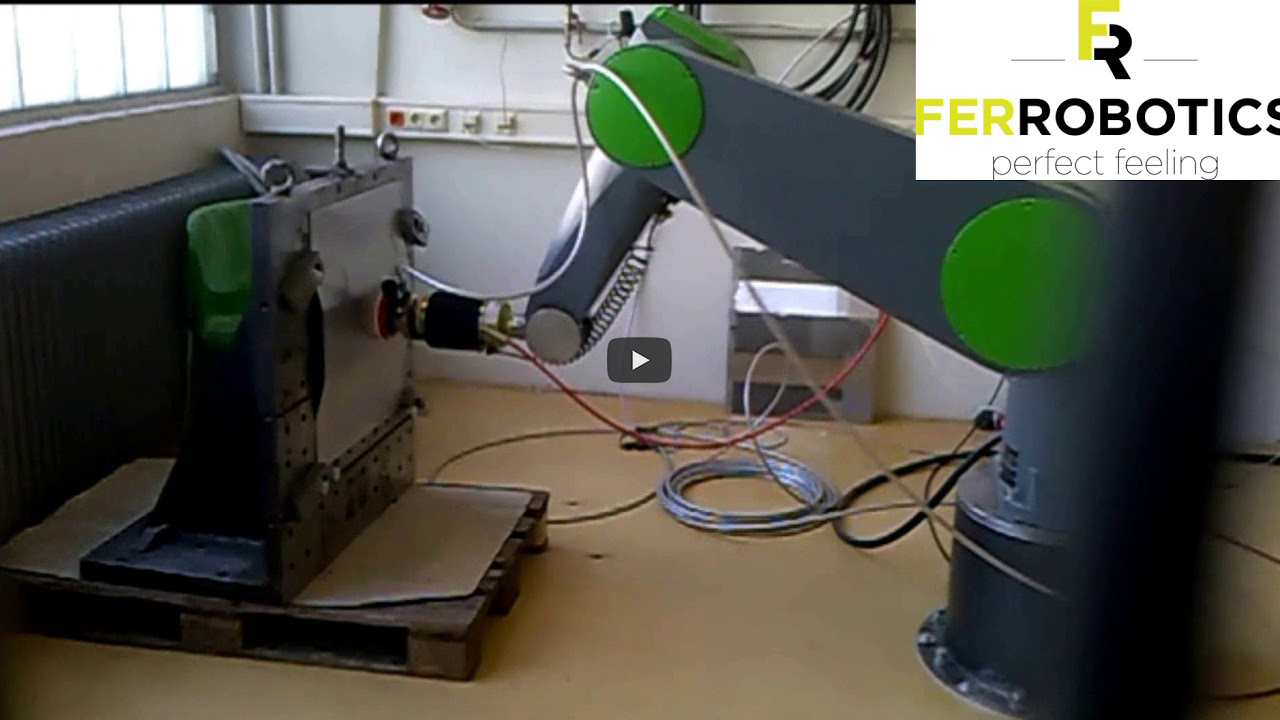 Rapid contacting of surfaces
This polishing process demonstrates that surfaces can be contacted rapidly and reliably with the ACF. Special functions prevent the formation of grinding marks. This significantly shortens cycle times and the process becomes precisely reproducible and seamlessly controllable. Uniform 24/7 processing ensures a constant level of quality.
Detailed information
Industries and Applications
We feel most at ease where there is
Room for Improvement
YOUR REQUEST TO FERROBOTICS
Put your questions to the global market leader in flexible robotics. It's important to us to communicate with you in the best way possible: our experts are always happy to help and share their expertise with you.