Handling
FASTEST PROCESSES THROUGH SENSITIVITY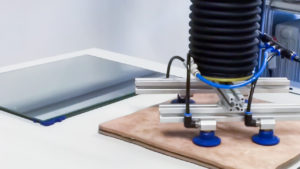 FerRobotics equipment is highly sensitive and enables quick processing. This qualifies them outstandingly for handling delicate materials and workpieces. Our handling solutions recognize physical contact and react accordingly. Thanks to our innovative Active Compliant Technology, placing and depositing objects with small forces is quick and careful. ACT is ideal for delicate workpieces or for stacking parts with large tolerances.
Stack glass and ceramics
Rapid and intuitive stacking of critical workpieces
Rapid and intuitive stacking of critical workpieces
Thanks to the sensitive ACT, it is possible to quickly grip critical parts such as e.g. glass or ceramics and rapidly and sensitively touch defined stacking heights. The placement process is significantly facilitated through the functional sensitivity. The process creation occurs easily and quickly without complicated calculations.
Detailed information
Industries and Applications
We feel most at ease where there is
Room for Improvement
YOUR REQUEST TO FERROBOTICS
Put your questions to the global market leader in flexible robotics. It's important to us to communicate with you in the best way possible: our experts are always happy to help and share their expertise with you.