AOK XS DOUBLE HEADER
FOR SANDING AND POLISHING
2-in-1 End-of-Arm Tool for Paint Repair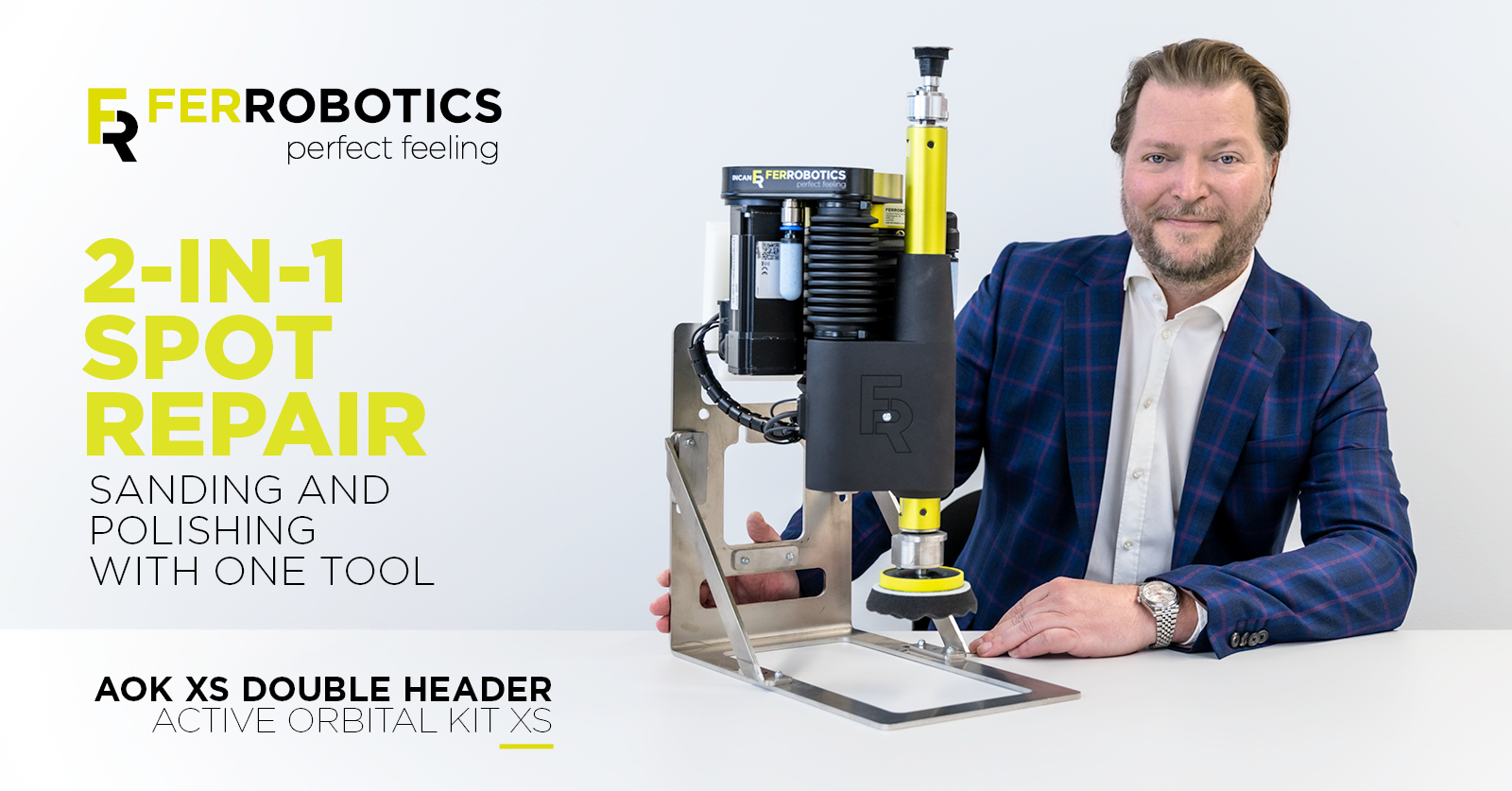 Automated Finesse Sanding (Paint Repair) gets new industry standard.
Precise sanding and polishing with just one tool.
During the painting of plastic or metal parts, visible defects usually occur in the paint (e.g. due to dust particles). Until now, these were removed with exhausting, time-consuming manual work. Depending on the feeling of the employees during the day, the result could vary. In addition, the strenuous activity (ergonomics and sanding dust = 3D jobs) is a burden for the skilled workers performing the work. With the automated paint finish, these 2 work steps "sanding and polishing" are now done by only one EOAT (End of Arm Tool).
The FerRobotics AOK 403 Double Header
Proven application fields are of course in the automotive sector and related supply industry, as well as for electrical appliances, in mechanical engineering and in the furniture industry.
Interested parties are welcome to register for one of the upcoming LIVE presentations.
The Active Orbital Kit 403 XS Double Header revolutionizes the automated finesse sanding (defect repair) of plastic and metal surfaces. The EOAT operates two tools on one robot quickly and efficiently without any device change. It is another intelligent system package of a specially designed electric random orbital sander/polisher based on the patented Active Compliant Technology®.
Contact pressure is continuously validated
Especially the industrial sanding and polishing process in partial paint repair benefits from this integrated ready-to-use solution since the system achieves a structure-free surface processing of all materials robot-compatible. The very unique feature is that the applied contact pressure is continuously validated in real time by innovative, redundant force monitoring via sensors and a conditioned calculation model. This enormously durable end-of-arm tool is ideal for industrial use and delivers twice the output of standard devices - 24/7. However, the double header impresses with reacting extremely fast and highly sensitive due to a light and compact design. All critical parameters, such as rotation speed, contact and process force as well as feed rate, may be individually controlled, thus enabling 100% process control. A fully integrated servo motor provides the drive. The AOK XS Double Header requires little maintenance and is universally compatible with many abrasives.
We feel most at ease where there is
Room for Improvement
YOUR REQUEST TO FERROBOTICS
Put your questions to the global market leader in flexible robotics. It's important to us to communicate with you in the best way possible: our experts are always happy to help and share their expertise with you.