New Orbital Sander
and Angular Grinder
Next Generation end-effector FOR GRINDING AND POLISHING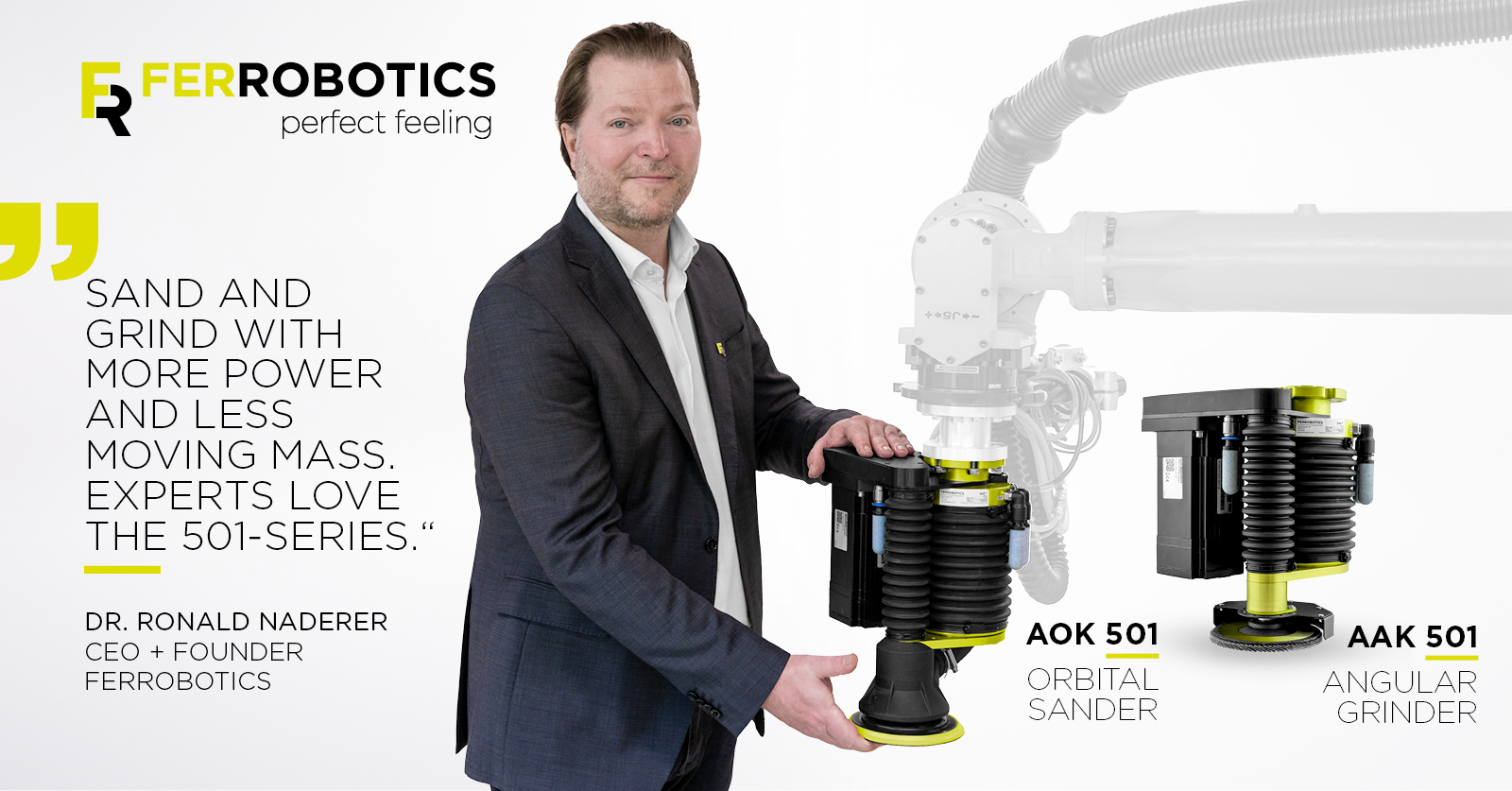 SAY HELLO TO OUR
NEW END-EFFECTORS!
MORE POWER - LESS MOVING MASS.
FOR EXPERTS IN AUTOMATED GRINDING, SANDING AND POLISHING.
Imagine you and your robot can grind and polish every surface with ease. That's possible with a real force control robotic tool that keeps the exact force needed for best quality results. With a powerful motor, slim design and less moving mass, the high-tech end-effectors of the FerRobotics 501-Series cover a performance range that you and your manufacturing crew is already looking for. The integrated proven system packages with sensitive contact force control (patented Active Compliant Technology) are used especially for robotic
- grinding
- sanding
- polishing
- deburring
Amazing new robotic tools for automation experts who rely on "full sensitive power ahead" for surface finishing tasks in the aerospace, automotive and general industry. Grinding and polishing solution for a wide range of metal, wood, plastic, stone, ceramic and painted surfaces.
The FerRobotics 501-Series
Use a force of up to 160 N, a compliant stroke of 35 mm and a unique contact sensitivity based on our patented Active Compliant Technology. The 501-Series is enormously powerful, flexible and ready for your surface finishing tasks.
Unlike manual machining, the FerRobotics AOK 501 Orbital Sander and AAK 501 Angular Grinder establish an exactly uniform and reproducible grinding/polishing quality. However, to achieve repeatable results, the end-of-arm tool (EOAT) must be force-controlled and sensitive like these.
As a user, you benefit in the long term, both economically and in terms of process technology, from an optimised and reliable process sequence. Accompanied by the highest quality through first-class machine performance, simple operation and low maintenance. With the AOK 501, a harmoniously adapted suction hood specially designed for heavy sanding additionally ensures dust-free processing and guarantees a clean working environment.
Interested parties are welcome to register for one of the upcoming LIVE presentations.
We feel most at ease where there is
Room for Improvement
YOUR REQUEST TO FERROBOTICS
Put your questions to the global market leader in flexible robotics. It's important to us to communicate with you in the best way possible: our experts are always happy to help and share their expertise with you.